News; Solo Round Scotland – first ever full circumnavigation of Scotland now on KINDLE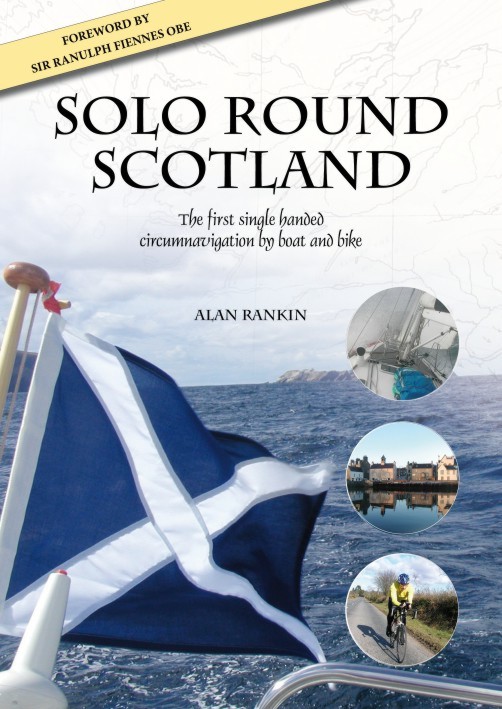 #BigSailWalk November Talks: 1st Nov Crieff Probus Club. 8th Nov RLS Week, Trinity House Leith Edinburgh. 17th Nov Carrbridge Hotel. 
#BigSailWalk CHALLENGE COMPLETED 13TH AUGUST.

Thank you

to all our sponsors, supporters and those who have enjoyed sharing our adventure. PLEASE DONATE !

Full route below on plotter map and detailed daily distances and climbs.
SAIL   :   540 nautical miles 4.5 days. Average day: 122 nm
WALK:   273 miles 14.5 days, 33,816 ft climb. Ave day: 18.2 miles 2,254 ft
Original route as described in the book Kidnapped by RL Stevenson 1886
SAILING LEG
20th May:    12.45 Departed  South Queensferry
22nd May:   13.30 Rounded North Ronaldsay Orkney Islands
23rd May:    14.58 Rounded Cape Wrath
25th May:    01.59 Anchored Tinkers Hole, Erraid –  540 nautical miles
WALK FIRST PHASE
26th May:    Erraid to Nuns Pass 18.7 Miles 3,241 ft climb
27th May:    Nuns Pass to Glen Forsa 19.1 / 2,083
28th May:   Glen Forsa to Lochaline/ferry to Kingairloch 27.8/2,465
29th May:   Yacht across Loch Linnhe to Lettermore on to Clachaig 22.7/4,030
30th May:   Clachaig, Kinlochleven, Loch Charain Bothy 18.4 / 3,636
31st May:    Loch Charain Bothy to Ben Alder Cottage 19.4 / 2,161
2nd June:   Ben Alder Cottage to Loch Rannoch 9.0 / 626

WALK SECOND PHASE
6th Aug   :    Loch Rannoch to Glen Daimh 11.3 miles 2,382 ft
7th Aug   :    Glen Daimh to Betavaime 17.6 / 1,595
8th Aug   :    Betavaime to Loch Voil 17.7 / 3,094
9th Aug   :    Loch Voil to Uamh Bheag 16.2 / 3,408
10th Aug :    Uamh Bheag to Dunblane 17.0 / 1,564
11th Aug  :    Dunblane to Gartmorn Dam 19.2 / 829
12th Aug  :    Gartmorn Dam to Limekilns 18.1 / 208
13th Aug  :    Limekilns to Edinburgh 21.4 / 1,593
SAILING   :   540 nautical miles 4.5 days. Average day 122 nm
WALKING:   273 MILES 14.5 days, 33,816 ft climb. Ave day 18.2 miles 2,254 ft
2016 is the 130th anniversary of the publication in 1886 of the literary classic Kidnapped by Robert Louis Stevenson. The book tells the tale of David Balfour, his kidnapping and adventure as he is smuggled around the coast of Scotland, surviving ship-wreck off Mull then making his way back overland with Alan Breck-Stewart to South Queensferry and on to Edinburgh to claim his rightful fortune. Wikipedia
In the summer of 2016 we sailed from South Queensferry, around Orkney down the Minch to the island of Erraid, off Mull and from there on foot the 270 miles back to South Queensferry and on to Edinburgh.
The overland leg crossed some of the wildest and most stunning landscapes in Scotland following the route as described in the book and mapped on the long distance route the Stevenson Way
See full overland Route